Early piano actions were made of small timber components, but timber is susceptible to moisture, and to expansion and contraction with changes in environmental conditions – especially very fine timber parts that are subject to regular motion and impact.
The Millennium III action features components made of a new material created by the infusion of carbon fibre with Kawai's ABS composites. This ABS carbon is incredibly sturdy and rigid, which allows Kawai to make the mechanical parts of the action lighter and stronger. This makes the Millennium III Action approximately 16% faster than traditional actions in upright pianos, and 25% faster in grand pianos.
The result of Millennium III is a stronger, faster action that offers more power, better control and greater stability than conventional all-wood actions.
Millennium III
This patented Kawai design is a remarkable step forward in grand piano actions, providing repetition up to 25% faster than traditional wooden actions. Innovative design and the use of ABS-Carbon fibre give the player unparalleled freedom of expression, flexibility and control. The Millennium III action is thus more sensitive to the player's touch for controlled pianissimo playing and at the same time generates more power with less effort overall. It really does provide a platform upon which the player can create his or her very best performances.
Available in: all Kawai grand pianos (GL, GX & SK) and all Kawai upright pianos (K Series, UST) except K15 and ND21
ABS Carbon
ABS-Carbon is a proprietary material of the Kawai company, combining ABS Styran (used in Kawai actions for some 40 years) with the extraordinary strength of carbon fibre. Virtually impervious to shrinking and swelling, it has enormous inherent strength.
Available in: all Kawai GX Series professional grand pianos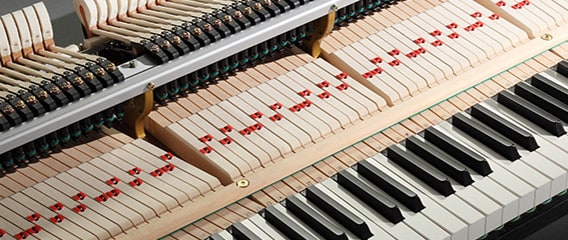 Extended keysticks
The overall length of each keystick is extended to make playing easier and provide more even touch and response from the front to the back of the playing surface. Keysticks are also designed with a slightly taller profile for maximum rigidity to deliver greater power.
Available in: all Kawai grand pianos (GL, GX & SK) and all Kawai upright pianos (K Series, UST) except K15 and ND21